Welcome to The Grand Hôtel du Tonneau d'Or !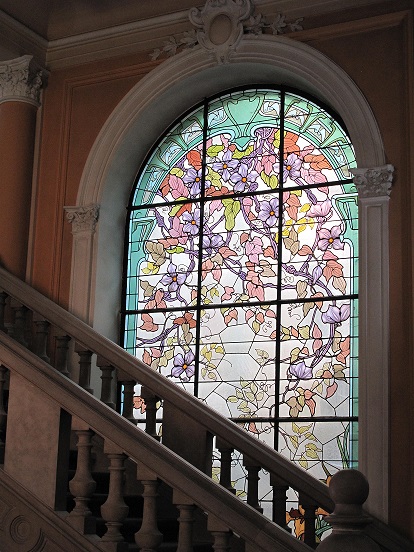 The Grand Hôtel du Tonneau d'Or was built in 1907. The neo-classical hotel offers contemporary accommodations in a charming environment full of history.
Right in the center of Belfort located, at the gate of old town and only 5 Minutes walks away from the Lion of Belfort, the Grand Hôtel du Tonneau d'Or has 52 rooms, all unique and variously decorated in a modern way.
The entrance Hall, with the colossal stairway and stained glass windows from Maître Gruber from Nancy, contains a relaxing area and a bar corner. The reception is open 24h. A buffet breakfast with local products is served every morning in the ground-floor room or as a continental breakfast in your room.
The Grand Hôtel du Tonneau d'Or has a 5-places private parking slot for its clients, and you can easily park in the streets around. You can also leave your bikes in a secure room inside the hotel.
The TGV Station is 15 Minutes away; the Basel-Mulhouse airport is about 45 Minutes, and GE and Alstom sites are only 5 minutes away by car. However, taxi and bus areas located just in front of the hotel makes your travel very easy.
 Grand Hôtel du Tonneau d'Or ****
1 rue Reiset 
90 000 BELFORT 
Tél : +33 03.84.58.57.56
Fax : +33 03.84.58.57.50
This email address is being protected from spambots. You need JavaScript enabled to view it.